Forecasting Your Aspen Vacation
Colorado is known for its weather swings. The phrase "dress in layers" was undoubtedly coined amidst the Aspen chill and high-mountain sunshine. The best advice is to wear warm winter clothes with plenty of non-cotton layers. Almost every summer day brings blue skies, warm breezes and a refreshing cool down in the evenings. Again, clothing layers are helpful for enjoying activities from sunup to sundown.
Travel with Confidence. As an Inspirato member, your Personal Vacation Advisor has access to more information about Aspen events, activities and the ideal times of the year to visit. If you're currently planning to visit Aspen, call your PVA at 720.457.9588 to prepare for your travels and to learn how seasonal weather changes may impact your vacation.
Register to learn more about Inspirato and download a free digital copy of our magazine.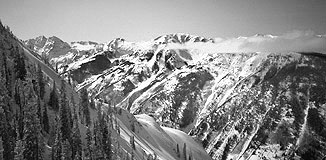 Passport: Aspen/Snowmass
Want to know the hottest places, must-do activities and can't-miss restaurants in Aspen? Our guide reveals all this and more.
This is your passport to the perfect Aspen vacation.
Aspen, Colorado
- 5 Residences