Skies, Serpents & Shakespeare
Inspirato wants your London experience to be exciting and adventurous. Set aside some time to go beyond your residence and discover everything it has to offer.
British Airways London Eye
The world's largest observation tower opened in 2000 and is a great way to get acquainted with the city. The London Eye offers panoramic views that extend for some 25 miles, where you may be able to see Big Ben, Buckingham Palace and the House of Parliament. Passengers are carried in pods that make a full circle around "the eye" every 30 minutes.
The Changing of the Guard and Buckingham Palace
The massive palace filled with 600 rooms is the official residence of the Queen of England. It's surrounded by an expansive 40-acre garden and is guarded by Scotland Yard 24 hours a day. During a short eight-week period in August and September (when the Royal family is vacationing outside of London), a few tours are given of the stateroom and the royal gardens. You can only purchase tickets for these special tours on the day of the tour starting at 9 a.m. If you are unable to be one of the lucky few to step inside the royal palace, another tourist favorite is the changing of the guard, where one guard replaces another in the middle of the forecourt in front of the palace. The ceremony begins at 11:30 a.m. every day (or every other day in some months).
An Evening at the Theater
London has always been known for its theater district, called the West End. Whether it's one of Shakespeare's influential tragedies at The Globe or next season's Broadway hit, the London theater scene has something for everyone. Just be sure to reserve tickets early.
Rowing on the Serpentine
In the middle of Hyde Park is the expansive, winding Serpentine Lake. At the boathouse you can rent boats by the hour and soak up the bucolic atmosphere of a warm afternoon. This idyllic location is the backdrop and inspiration for one of Renoir's most famous paintings, "Woman in a Boat."
Kew Gardens
The Royal Botanic Gardens at Kew - a World Heritage Site - cover an area of more than 300 acres that includes iconic plants, lush gardens and vistas.
Want to add some of these activities to your London vacation plans? Your Destination Concierge can make all the arrangements to help make your Inspirato vacation something you and your family will never forget. Just ask. We'll make it happen in a moment's notice.
Register to learn more about Inspirato and download a free digital copy of our magazine.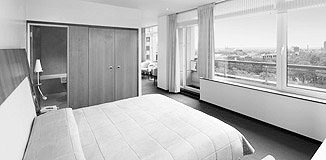 A Stone's Throw From London Indulgence
Perfectly placed on Park Lane, guests of the Metropolitan are within walking distance of Piccadilly Circus, Bond Street, Knightsbridge and a throng of restaurants.
London, England
- 2 Residences