Luxury Labels & Divine Design
An Inspirato vacation can certainly inspire an unforgettable shopping experience - from visiting quaint boutique emporiums to luxury brand stores. And any thrilling London vacation should include a stroll down the busy storefront boulevards and avenues where you'll find treasures aplenty at these top locations.
Bond Street & Mayfair
Bond Street is the hot address for designers, including Chanel, Ferragamo, Burberry, Louis Vuitton, Tiffany & Co. and Versace. For a complete old-world transformation, visit Burlington Arcade. Lit by wrought-iron lamps, its boutique stores specialize in fashion, jewelry, fine linen and cashmere.
Oxford Street
This bustling thoroughfare is home to more than 300 shops, designer outlets and landmark stores. Oxford Street is lined by famous department stores such as John Lewis, Debenhams and the legendary Selfridges & Co. One of the world's finest department stores, Selfridges has six floors, ten acres of shopping space and five-star services, from high fashion consultation to wardrobe coordination.
Westfield London
This innovative shopping, dining and entertainment complex is the largest urban shopping center in Europe. Find retail giants such as Debenhams, Next, Marks & Spencer and House of Fraser, or browse more than 275 premium retailers, including Jimmy Choo, All Saints and Ted Baker.
Covent Garden
London's most distinctive shopping area, Covent Garden is bustling and eclectic, offering fresh finds, from hip fashion and unique gifts to handmade jewelry and funky cosmetics. Swing by Covent Garden Market to find creative arts and crafts and to meet colorful locals.
Knightsbridge
This world-renowned shopping district is famed for its prestigious brands and elite fashions. The area is most famous for Harrods and Harvey Nichols.
Savile Row
Celebrated for its authentic British tailoring, Savile Row is still home to its first tailor, Henry Pool & Co, credited with inventing the tuxedo. Other popular tailors include Gieves & Hawkes, H. Huntsman & Sons and Ozwald Boateng. Any of these tailors will hand make a suit with all of the old-fashioned charms. Also, the Abercrombie & Fitch flagship store sits at the corner.
Notting Hill
This famed shopping area is lined with boutiques selling vintage clothing, global antiques, quirky gifts, collectible books and fresh food. Don't miss the mile-long Portobello Road Market with stalls that overflow with goods and trinkets.
Is a London shopping experience part of your vacation itinerary? Your Destination Concierge can direct you to some of the nearby hot shopping spots and can provide some helpful tips. Just ask. Your pathway to a wonderful shopping adventure is steps away from your residence.
Register to learn more about Inspirato and download a free digital copy of our magazine.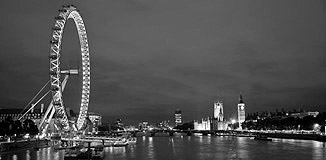 The Metropolitan Room in the Metropolitan London is at the heart of the action - and a five-minute cab ride to almost everything else.
London, England
- 2 Residences