Tuscan Day Adventures
Concierge Pick: Hot Air Ballooning
You'll arrive just after dawn, right before the hills start to glow in the morning sunlight. The pilot and crew lay out the balloon to inflate it, and you're invited to help if you want (it's part of the fun!). Soon you'll float toward the sky, hovering about the Tuscan countryside with a view most can only dream about. Your guide will also touch down for a wonderful breakfast of local produce and champagne.
Member Memory: San Gimignano
"We weren't sure whether this would be a good choice with two young children, but Simona assured us it would be. She was right! Everything about the town and the ancient walls and towers excited the kids-they acted like it was their private castle. Sharon and I just breathed in the history and let them lead us into the small churches and the high vantage points looking over the countryside. We capped it off with gelatos in the square. It was the perfect half-day trip."
Inspirato Recommends
Early in the morning the Val d'Orcia region can get a little fog, but as it lifts you'll have the opportunity to view some of the loveliest countryside in Europe. We recommend you begin your wine tasting tour in the Val d'Orcia with Montalcino, a small hilltop town, which is famous for its Brunello di Montalcino wine, made from the sangiovese grosso grapes grown in the area surrounding the town. The best way to explore Montalcino is on foot; the town is very small, and its high position offers stunning views over the olive groves, vineyards and farmhouses. Before leaving, make sure to enter at least one enoteca (wine shop) so you can bring home a sample of the town's most famous product.
An Inside Look: Siena
Siena really deserves several days instead of one, but even one day can transport you back in time as you wander the medieval streets. Siena offers a very relaxed feel, largely attributed to the predominantly car-free streets bursting with history and tradition. Try to arrive in Siena at least for a morning cappuccino and pastry at the famous Nannini (an historical coffee shop and patisserie started in 1911). Strolling through the town is breathtaking for its overall architectural ambiance.
Make sure you visit the grand striped Duomo (Cathedral), ornately decorated inside and out, which holds the delights of the frescoed Libreria Piccolomini and the not-to-be-missed Cripta. The bell tower Torre del Mangia is well worth the climb for the views of the town and surrounding countryside.
Find more local insights about Tuscany on the Inspirato Blog.
Register to learn more about Inspirato and download a free digital copy of our magazine.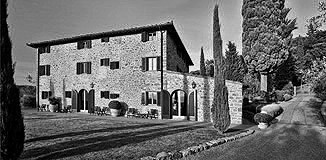 Welcome to the Chianti Region
The Il Bronzino residence is situated amid impeccably manicured gardens and features incredible views of the area's rolling green hills and surrounding vineyards and olive groves.
Tuscany, Italy
- 12 Residences