Inspirato for Business Professional
Travel is an important part of business, whether it's a meeting in a major city, entertaining clients in the world's premier locations, or offering your partners and key employees the opportunity to recharge. Inspirato is the smart choice, with a pricing structure and flexibility created specifically for business.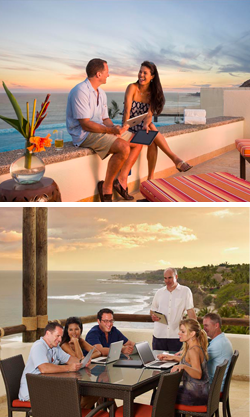 With an Inspirato for Business Professional membership, you receive two Core memberships with unrestricted access to the Inspirato portfolio, vacation options and club benefits. We'll also give you three complimentary guest passes that renew annually. And you can reduce corporate travel expenses with access to discounted lodging in key business destinations like New York, London and Paris.
Additional Core memberships may be added under the Inspirato for Business Professional pricing model. Please call for details.

Unique Value for Businesses
Enhanced benefits package.

Attract and retain the best employees and partners.

Motivate performance.

Create distinctive, performance-based rewards.

Increase client and partner awareness and loyalty.

Host exceptional events and client entertainment.

Reduce corporate travel expenses.

Access discounted lodging in key business destinations.
Pricing Inquiries
The Inspirato for Business Professional plan can help take your business to the next level. For membership and pricing questions, please call (888) 546-5008 or contact us online.