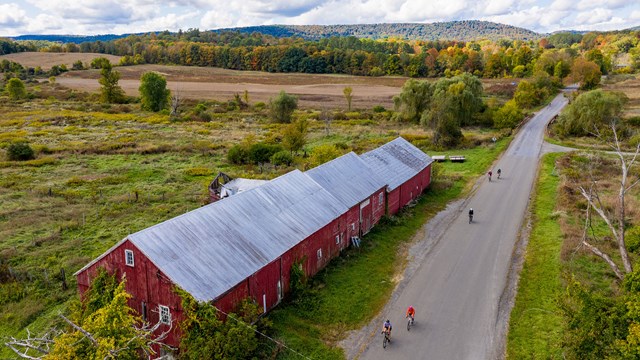 Hudson Valley Cycling Adventure 2022
Here, you'll find everything you need to prepare for this experience, from packing tips and FAQs to a timeline of post-booking communications.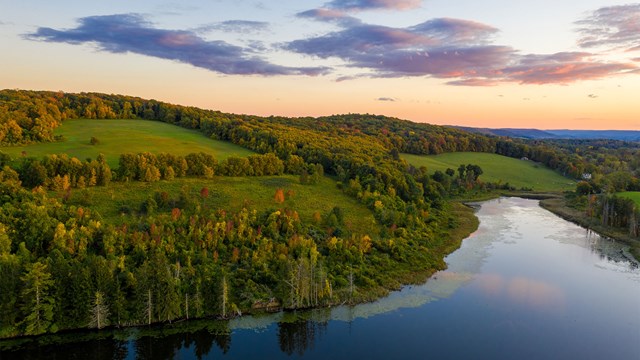 At a Glance
Take in the scenic Hudson Valley in the fall when the leaves are changing, the temperatures are gorgeous, and the region comes to life
Sample fresh produce, artisanal cheese, and handcrafted spirits with local farmers
Average fall temperatures: 64°F as an average high; 50°F as an average low
Pre-Trip Planning Timeline
Three Weeks Prior to Departure
Bon Voyage!
About three weeks prior to departure, you'll receive an email from the Inspirato Only experiences team with your personal itinerary, suggested packing list, contact information for your on-site Inspirato hosts, pre-trip Zoom call details, etc.
Three Months Prior to Departure
Traveler Information Form
About three months prior to departure, you'll receive an email from the Inspirato Only experiences team with the Traveler Information Form. In this form, we'll ask you to provide details such as contact information for each traveler, flight and travel information, and select any trip add-ons, excursions, etc.
We'll take this information and begin planning your trip and building your personal itinerary. We'll be in touch with you after receiving the completed form should any follow-up or confirmation be necessary.
What you need to know
Airport and Transportation Information
Please fly in and out of Bradley International Airport (BDL), Albany International Airport (ALB), or Hudson Valley Regional Airport (KPOU).
The drive from Hudson Valley Regional Airport to Troutbeck takes about 50 minutes.
The drive from Bradley International Airport to Troutbeck takes about 1 hour, 25 minutes.
The drive from Albany International Airport to Troutbeck takes about 1 hour, 35 minutes.
Airport transfers are not included in your package but can be arranged through Inspirato for an additional cost.
Packing List
While On Your Bike:
Cycling jerseys or athletic shirts
Cycling shorts
Cycling shoes (if you bring your own pedals)
Sneakers (if you don't bring your own pedals)
Athletic socks
Arm/leg warmers
Lightweight, waterproof, wind-resistant jacket or vest
Bike gloves
Bike saddle/cover if you prefer your own
While Off Your Bike:
Comfortable walking/athletic shoes
Hiking shoes
Long and short-sleeved shirts
Sweater/jacket for evenings
Dinner attire (dressy casual)
Dress shoes
Polo-style shirts or casual tops
Shorts and sundresses
Lightweight jacket or windbreaker
Swimwear
Sleepwear
Additional Items:
Personal medications
Advil, Motrin, Imodium/Pepto-Bismol
Shaving cream and razors
Toothbrush and toothpaste
Daypack or backpack to carry cameras and other items
Toiletries (hotel amenities include shampoo/body wash, conditioner, soap, and lotion; hair dryers are also available in each room)
Camera equipment and chargers
Camera memory cards
Contact lens case and solution (if applicable)
Comb/brush
Sunscreen
Insect repellent
Sunglasses/eyeglasses
Travel and medical insurance information
Credit and debit cards (Contact your bank in advance about your travel plans!)
Gratuities are included in your trip. As such, tipping is neither required nor expected. For members who want to further recognize exceptional service, we will provide gratuity envelopes at the end of your stay.
Additional Reminders:
Be sure to pack your travel and medical insurance information with coverage documentation.
Be sure that you have contacted your bank in advance about your travel plans.
We recommend recording your credit card information and lost/stolen card hotline should you need to contact your bank at any point during the voyage.
Travel insurance is not required for the trip, but it is highly recommended that you purchase it. Please contact our preferred partners at Travelex for a quote.
Frequently Asked Questions
Airfare
Airport transfers
Meals not listed in the itinerary
Activities not listed in the itinerary
Shipment of personal bikes and/or equipment
E-bikes are not included but are offered at $300
Supplement gratuities for guides
Travel insurance (recommended)
About 20 Inspirato members including their guests will be attending.
The minimum age for this trip is 18 years old.
E-bikes can be requested for an additional cost of $300.
A bike, bike saddle, GPS (where available), flat or caged pedals, t-shirt and jersey, helmet, water bottle, snacks/nutrition, and drawstring bag will be provided to each guest.
Within three business days of booking, you may cancel for a full refund. After three business days, reservations are non-refundable unless Inspirato is able to rebook the package. If Inspirato is able to rebook, the Inspirato member will receive 90% back in Travel Credits. If applicable, this would be refunded one day after the package is rebooked.
Temperatures range from 64°F as an average high to 50°F as an average low.
Questions? We're here to help.